Happy New Year and here's to a better year in 2009. Until then, I hope you enjoy some of my favorite tributes to 2008:
– The P.U.-litzer Prizes from AlterNet recognize some of the U.S. media's worst moments in 2008:
HOT FOR OBAMA PRIZE — MSNBC's Chris Matthews: This award sparked fierce competition, but the cinch came on the day Barack Obama swept the Potomac Primary in February — when Chris Matthews spoke of "the feeling most people get when they hear Barack Obama's speech. My, I felt this thrill going up my leg. I mean, I don't have that too often."
– from the Daily Kos:
I know I've missed everyone from the last British World War I soldier, one of a handful of remaining Munchkins, three astronauts, and Nurse Chapel. Heck, I didn't even cover Tim Russert, whose absence left a shadow over the election coverage this fall. Overall, this seemed like a year for losses.

So how about in 2009, we just don't let anyone off the ship. Okay? 
From Poynter Online:
I selected projects that combine multiple media forms and storytelling techniques to provide journalistic information. This is not a "best of" list — I'll leave that to the various and sundry contest judges to decide. Instead, it's a list of pieces that caught my eye because they tried something new, did something especially creative, served their local community well or illustrated a trend in this year's multimedia.
And finally, America's finest news source's review of the best in 2008's fake news: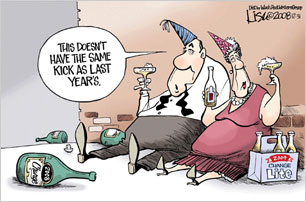 Happy New Year!